Services
Direct Mail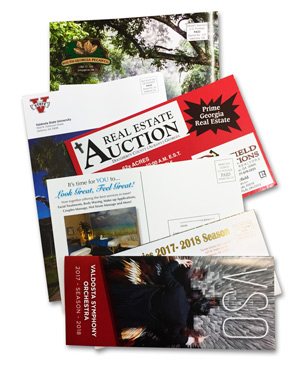 Let Colson Printing handle your print project from start to finish! Save time and money. Take advantage of Colson Printing's in-house mailing.
To better serve you, Colson Printing combines printing and mailing services under one roof.
With today's frequently changing postal rules and regulations, allowing us to handle your mailing needs will minimize postal and project costs.
Our mailing technicians, along with our customer service professionals, are always available to give you expert assistance.
Our expert graphics team can help you design a product for economical mailing. If you choose to use your own design, we will evaluate it before printing to be sure it meets all postal regulations.
Sending us your mailing list is quick and easy. We provide you with several options for getting it to us: send it through e-mail, upload it to our ftp site, or send it to us on disk.
All of your mailing services are conducted in-house, saving you both time and additional expense. Using our software, we can evaluate your mailing list data, apply Zip+4 coding, merge, purge and eliminate duplicates, CASS certify, and barcode before addressing your printed products.
Colson Printing delivers your mailing directly to the US Post Office in Valdosta, GA. We can also arrange for in-house postal verification and drop shipment to other post offices.
Please ask one of our customer service representatives for more information.
Direct Mail Glossary
Business Price Calculatory
Zip Code Lookup